Update: May

NEW: DOBROGOSZ PIANO BOOKS PLAYLIST
This 8-hour+ list of recordings includes my entire notated piano catalogue exclusively on YouTube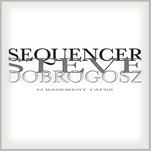 Upcoming: SEQUENCER (43 basement tapes), release soon on iTunes and all streaming sites.

LIMITED OFFER
A 35 minute program for mixed choir, strings and piano - 9 ARRANGEMENTS - was published here a few years ago. The concept: some of my favorite original ballads arranged for the same setting as my 1992 Mass. 9 ARRANGEMENTS deserves a wider audience, so we are offering a perusal Conductor Score and CD of the 9 demo recordings FREE to the first 9 choirs to express interest. Request your copy here (please include shipping address and name of choir)

9 ARRANGEMENTS
A Clear Midnight (text: W. Whitman)
A Boat Beneath A Sunny Sky (text: Lewis Carroll)
My Own Beloved (text: E. B. Browning)
Ai Mite No (text: trad. Japanese)
Our Vows (text: Dobrogosz)
He Tells Of The Perfect Beauty (text: W. B. Yeats)
Communio (text: trad. Latin)
Wordless
Hi (text: Dobrogosz)

sound samples:
A Clear Midnight
A Boat Beneath A Sunny Sky
Ai Mite No


NEW ALBUM - Americana solo piano Free Country now at at iTunes and amazon and Spotify and all streaming sites
Listen to Jack of Diamonds from Free Country at YouTube




And don't miss my son Jonathan's latest smooth-jazz hit Fritzenized

New sheet music:
Rarities - a collection of notated piano music from 1975-2012 has been published along with a recording of the set on YouTube. Rarities contains minimalism, piano transcriptions of choral and organ pieces, my technically most challenging piece (Timeline), some stride piano, and a suite for piano composed at 19. Listen to Rarities at YouTube

... and the 8th addition to the Choir Songs series, including two major pieces - the 20 min. Buddhist chant Om Mani Padme Hum, and the 10 min. a cappella "mini-Requiem" In Memoria, along with six other stylistically varied pieces, with and without piano accompaniment. Listen to a performance of Om Mani Padme Hum.




For fans of the 1982 album Fairy Tales on the Norwegian Odin label - a completely remastered and repackaged CD and LP are soon to be released.

Upcoming performances of Requiem in Germany, Lux Aeterna in the US, Mass in the US, Japan, Korea, Germany, Sweden and Norway, Te Deum in Holland, and Stabat Mater in Japan.

Watch Ambrosian Hymns

A May 27 release is set for Sequencer - instrumental demos (literally a 3-hour "basement tapes" album) from the Charts book (see tracks of the month, above). Quite unlike anything I've released in quite a while...

Recent compositions:
Noir - piano
Modulation - piano
Free Country - solo piano album
Departures - for violin and piano
Birds at Dawn/Birds at Dusk - chamber ensemble
A Fairy's Tale - women's choir a cappella
Dreams - piano recording
Ambrosian Hymns - choir/piano/strings
Fiddlers Green - bluegrass tunes
Ame Ni No Makezu - men's choir/piano trio
Evensongs - piano
Nevia, The Hills, Mirror Lake, Cadence, Whispers - piano recordings
Misuzu - 6 songs for women's choir/piano
Oratio Sancti Francisci - choir/piano
Tellus Tertius - chamber music suite for contemporary dance
Arrangement of Lux Aeterna from Requiem, for choir-piano-strings-soprano solo.
Arboretum - 4 voices a cappella

Along with personal writing and recording projects underway, I also compose on commission. Works have so far been commissioned from Sweden, USA, Japan, Germany, Singapore, Cyprus, Spain, Holland and Denmark.

Dobrogosz YouTube playlist

---
FEATURED VIDEO