Update: October / November

New album out now: The B3z

The infamous 60s soul-rock-jazz-polka-metal band The B3z are back! Their long lost first album, the eponymous (and self-titled) "The B3z" has mysteriously resurfaced all across the interwebs. The first single (A side: Boondockers, B side: Patticakes) has already been hailed as "…a very loud recording…" by The Washingtown Post's tech expert Simon Jester, and "…nothing at all like Mozart…" by MTBS's cultural analyst Minerva Long. Based on the swirling, suggestive pulsations of the foot-powered Hammond B3 organ (a popular renaissance instrument), the B3z forged their obsessive-compulsive aural landscape in the misty midst of 60s psychedelia, but quickly disappeared from the scene when rumours of highly unorthodox hotel room behavior brought their first world tour to a sudden halt. But this long-awaited reappearance of "The B3z" confirms what fans have always known - the band's mind-numbing contributions to music history are more than just fairy tales.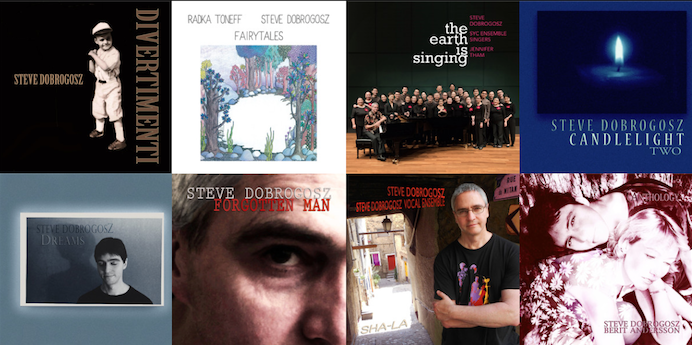 recent pieces:
Veritas - choir a cappella
Singing Waters Waltz - piano/violin/bass
Skyline - piano/string orchestra
Will's Ballades - songs from Shakespeare lyrics
Ho Ho Ho (Sing Along With Santa) - choir/organ
Time - choir a cappella

YEAR OF THE ALBUM - I remember when productive recording artists like Elton John and the Beatles released an album a year, often two per year. I started 2016 with two new albums prepared for release and ended up with four, one per season: winter - The Wild Bird Flies, jazz piano trio; spring - Stabat Mater, live recording from Japan, for choir/piano/strings; summer - Silencer, solo piano meditations; autumn - The B3z, infamous Hammond organ-based rock/soul band. In addition, the "I wish it were an album" Winter Coat I assembled for YouTube in January (as good as any of the "official" albums) and the recently completed solo piano Singing I'm saving for 2017.




A selection of 1984-94 recordings with Swedish jazz singer Berit Andersson is now up at YouTube.

Biggest possible thanks to all the music dealerships, instrumentalists, singers, music teachers and choirs around the world who've found their way to this website to order Dobrogosz scores, sheet music or CDs - as our humble little Sand Castle Music Inc celebrates its 2000th order!

PIANO BOOKS PLAYLIST - 8-hours of recordings comprising all my notated piano music, on YouTube

The 8th addition to the Choir Songs series includes two major pieces - the 20 min. Buddhist chant Om Mani Padme Hum, and the 10 min. a cappella "mini-Requiem" In Memoria, along with other stylistically varied pieces with and without piano accompaniment. Listen to a performance of Om Mani Padme Hum.

YouTube playlist

---
FEATURED